The Kone XP Air is now available to order from our website and we're so happy many of you are excited to get your hands on it.
Bringing all of its lovable features into a wireless form is something we've been excited to do since first revealing the mouse.
If you've yet to experience the wonders the Kone XP has to offer, you're missing out on a truly next-generation customisable mouse. This experience is only amplified as it cuts ties with wires and receives a truly elite addition in the form our RGB charging dock.
So we're here to outline some of the major features this mouse boasts and get you a little more familiar with it.
Here's 10 things you need to know about the Kone XP Air!
10 Things You Need To Know About The Kone XP Air

Unlike most wireless mice, our Kone XP Air comes with its own RGB charging dock. It shows off your beautiful mouse when not in use and rapidly charges your mouse, providing 5 hours of use in just 10 minutes. It's also worth pointing out that it has a USB port at the front, so you can charge while using it, without losing USB space.
Speaking of charging, the mouse also features a 100-hour battery life - you can use it freely without ever worrying about it running dry during an intense game.
The Kone XP Air takes the beautiful 3D-RGB featured in the original Kone XP and refines it, using its 5 zones to produce a stunning lighting experience through its translucent shell. The best part is you can customise how these RGBs look, thanks to our Swarm software; which will then sync with other AIMO-compatible devices such as our Vulcan TKL Pro.
4. It Has 15 Programmable Buttons With 29 Functions
The Kone XP Air, like the wired version, features 15 programmable buttons. Thanks to the Easy-Shift button, you can unlock an additional 14 functions, bringing the total to 29. It's great for games that require multiple actions in short periods of time. These buttons can be customised using our Swarm software.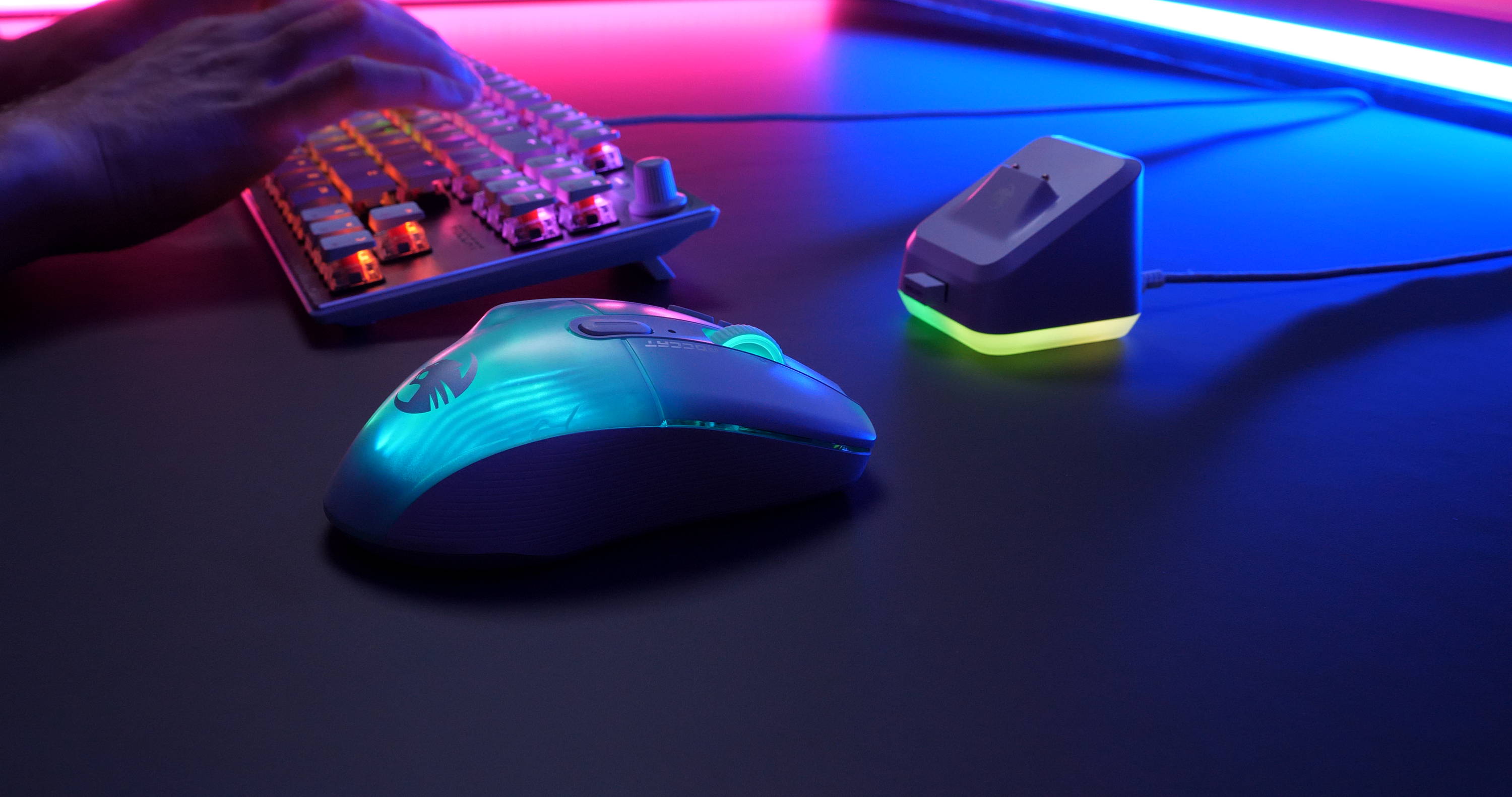 5. Features A Refind Kone Shape For Comfort
Many of you love the shape of our Kone mice, which is something that we've perfected through years of refinement. That's why the Kone XP Air features our beloved Kone shape to provide comfort for those long gaming sessions and to ensure all hand sizes and grip styles are accommodated for.
6. Weighs Under 100 grams
Where the original Kone XP was 104g, we've lowered the weight to be 99g so it's even lighter than before.
7. Features 2.4 GHz Wireless And Bluetooth
The crown jewel of this incredible iteration of the Kone XP is its steller wireless compatibility. Featuring both 2.4GHz and Bluetooth functionality, you can expect low latency and long battery life. Not only that, but it also works brilliantly if you decide to plug it in via our Phantom Flex USB cable.
8. Titan Optical Switches Are Perfect For Drag Clicking
We get asked almost daily "what's the best mouse for drag clicking" and the Kone XP Air is the perfect companion for minecraft players, thanks to its Titan Optical Switches it provides unprecedented speed and durability giving you over 100 CPS and a hundred million click life cycle.

The Kone XP Air's heat-treated, pure PTFE glides deliver an incredible glide and the smoothest mouse movements right out of the box. When paired with one of our Sense mousepads, you can expect buttery smooth glides.
10. Owl-Eye 19K DPI Optical Sensor
Precision is everything to gamers. That's why the Kone XP Air features an Owl-Eye 19K DPI optical sensor, which can be customised via Swarm, so you'll experience smooth, precise tracking.