What does the Crew have for you?
As July comes to a close and a new Fortnite Crew Pack is coming we also have a new event to look forward to in Fortnite!
The August 2021 event is still shrouded in mystery, for the most part, but thanks to leakers we can take a guess at what might come.
With aliens taking over the island, our friends from outerspace are undoubtedly at the heart of it all.
So what's coming? Here's what we know about the Fortnite Event.
The new Fortnite event is due to release on the 6th August 2021 at the following times:
3.00PM PT

5.00PM CT

6.00PM ET

11.00PM BST

2.00AM CEST

7.00AM JST

8.00AM AEST

10.00AM NZST
Here's a schedule of the shows:
Show 1 - Friday August 6 at 3PM PT/6PM ET/11PM BST/12AM CEST (7th August)

Show 2 - Saturday August 7 at 11AM PT/2PM ET/7PM BST/8PM CEST

Show 3 - Saturday August 7 at 9PM PT/12AM ET/5AM BST/6AM CEST (9th August)

Show 4 - Sunday August 8 at 7AM PT/10AM ET/3PM BST/4PM CEST

Show 5 - Sunday August 8 at 3PM PT/6PM ET/11pm BST/12AM CEST (9th August)
We're aware that this new event ties into the Arianna Grande Rift Tour event. In this event she will perform live via Fortnite, as many artists have done before, with the first event taking place on Friday and more rebroadcasting over the weekend (there will be five shows over the three days).
It's been sometime since we received an actual countdown timer to an event - thinking back it must have been the Galactus event at the end of 2020.
A new abductor has appeared in the centre of the island with an event countdown timer (this is also visible in the pre-game lobby).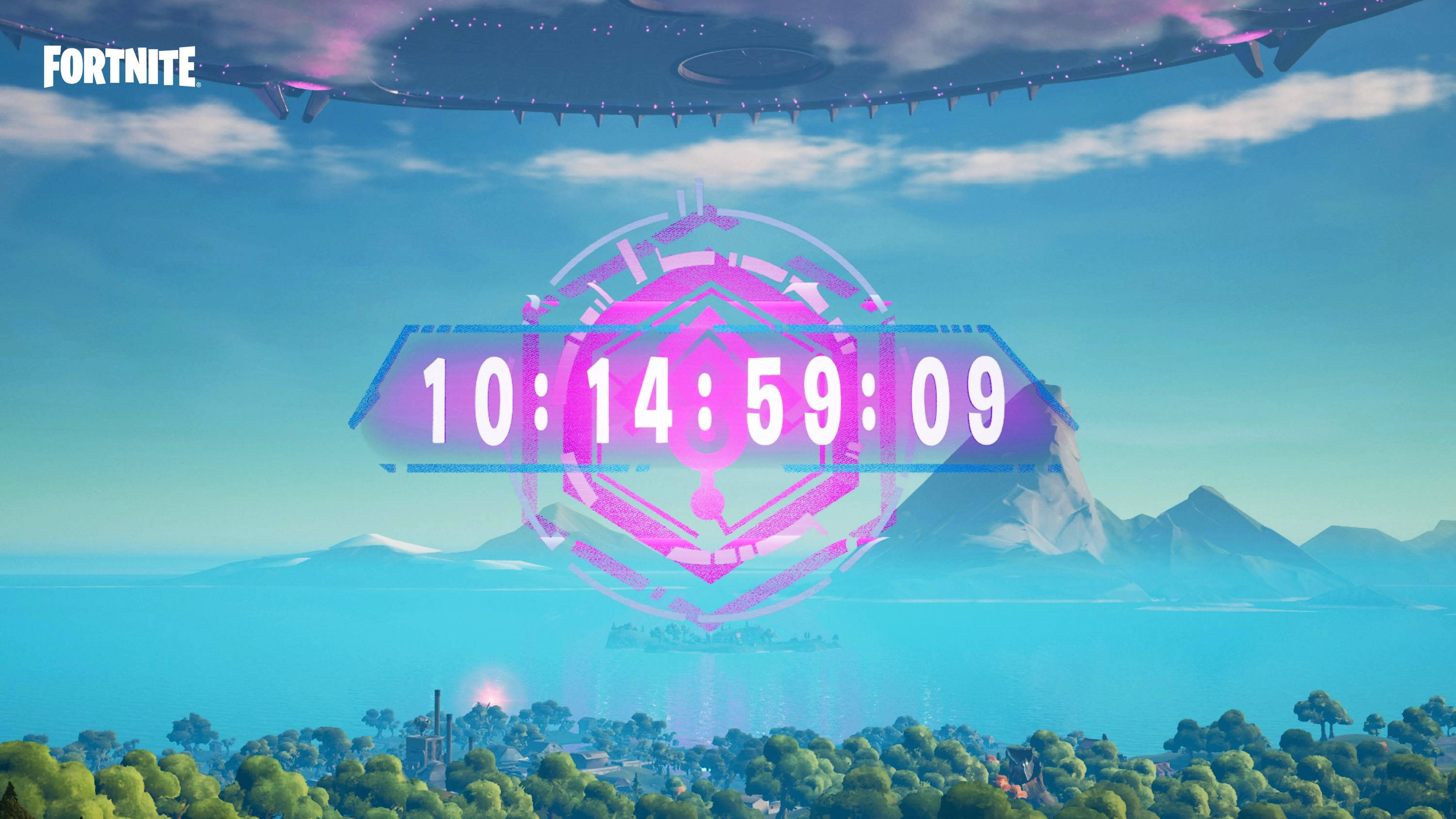 It's been reported that the Mothership will make its final movement across the island and cause some major upsets to the map.
Specifically, named areas such as Coral Cove, Slurpy Swamp and Corny Complex will be broken apart, start floating like the zones we've seen abducted inside the mothership and finally abducted.
It's been speculated for some time that Coral Cove would be destroyed or replaced, but it finally looks like this is its final goodbye.
Is that it? Probably not, but it will likely make up the large bulk of the event. It could be there is an interactive segment to the event in a single-player format that sees a full-scale attack from the visitors. But what we do know is that the map and landscape of Season 7 will be very different afterwards.
Epic is being cryptic about what's happening. "Its intent doesn't seem to be for harm," the developer says of the ship. "It's predicted its purpose will become clearer in the near future."
This
It's unknown if there are any rewards at this time. But speculation says that we may get a new loading screens and potentially a new NPC; but the details are scarce.
Follow us for the latest updates!
CHECK OUT OUR OTHER STORIES